Xahityacharya Dr. Ramesh Pathak
1 min read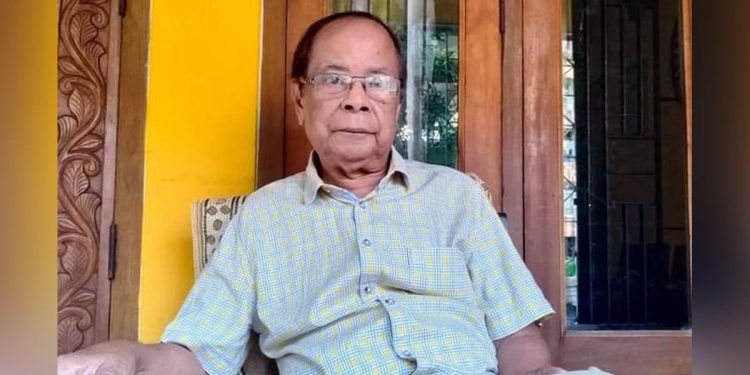 Noted Assamese litterateur, educationist, linguist, Dr Ramesh Pathak who contributed a lot with the creation of outstanding works towards Assamese language. He prepared a dictionary Samagrik Asomiya Sabdakosh which is considered to be one of the most useful dictionaries in Assamese. After prolonged illness he breathed his last at the age of 79. Born at Tihu in Nalbari district, Dr. Pathak completed his graduation from Cotton College and then pursued post-graduation from Gauhati University, from where he received the Ph.D degree. He started his career as a teacher at Tezu in Arunachal Pradesh and later joined Cotton College.
He also served as a guest faculty in Gauhati University and Dibrugarh University. As a linguist, he worked a lot to ensure accurate use of Assamese language. He also penned a number of books on Assamese language, such as Bhasha Bigyanar Bhumika, Asomiya Bhashar Itihash, Byakaran Aru Prakriti Bigyan, Upabhasa Bigyanar Bhumika, Puroni Asomiya Bhasar Ruptawta, Puroni Asomiya Sahityar Subash, etc. His another remarkable contribution towards Assamese language is Uchattar Byakaran. Among other important books written by him include – Natok Aru Natok, Ata Notun Surjyo Lagey, and Naamey Ki Korey. He also edited Lakshminath Bezbaruah's Rachanawali.
He has immense contributions towards taking the thoughts of Assam's great Vaisnavite saint Srimanta Sankardeva to foreign countries. In recognition of his contributions towards the Assamese language and literature, Asam Sahitya Sabha, the largest literary body of Assam, honoured him with the title of 'Sahityacharya'.